Cod. BIT 096 - Casa discografica: BIT Records Edizioni: Senza Base Records
ARTISTA: THE PRODUXER
TITOLO: MY PARADISE / LA CAMISA NEGRA (dance mix)
Formato: CD Singolo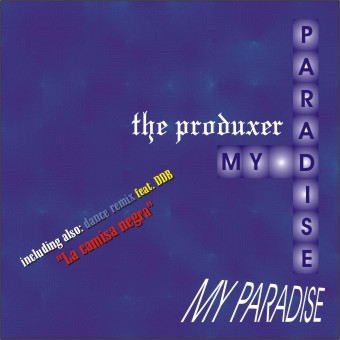 Tracks list::
1) My paradise (radio) 4:06

2) My paradise (extended) 5:45

3) My paradise (acappella) 3:55

4) La camisa negra feat. DDB (dance remix) 4:53

THE PRODUXER "My paradise"
arrangiamenti: Matteo Fagone @ Love Dream Studio VOCE: Paolo Bernardotti

THE PRODUXER feat. DDB "La camisa negra" prodotto da BIT Records
arrangiamenti: Matteo Fagone e Mauro Vai @ Love Dream Studio VOCE: Daniele De Bellis
PUBLISHING: Copy right Controll


© & (P) BIT RECORDS - 2005

publishing: SENZA BASE records s.n.c.
Per informazioni info@bitrecords.it
* i dati qui riportati sono indicativi e potrebbero subire variazioni