Cod. BIT 105 - Casa discografica: BIT Records Edizioni: Senza Base Records
ARTISTA: AAVV
TITOLO: DANCING DAY TIME Vol. 5
Formato: 2 CD Compilation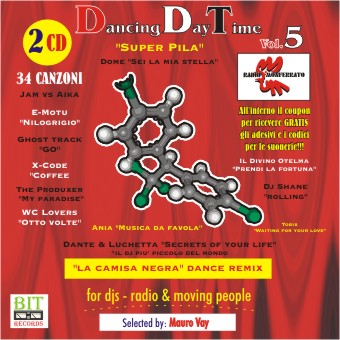 Tracks list:
CD 1

CD 1

1 Dante & Luchetta "Secrets of your life"
2 Jam vs Aika "You Know (what i mean)"
3 Ania "Musica da favola"
4 Dome "Sei la mia stella"
5 Dj Carpi "Il rusciello della non ragione"
6 The Produxer "My paradise"
7 Francesco Fontes "Bang bang"
8 The Produxer feat ddb "la camisa negra" dance remix
9 Ghost track "GO"
10 Tobix "La gravitą"
11 X-Code "Coffee Shop"
12 Da: A: "New dance business"
13 Vodka "Vodka"
14 Teckel "God you and myself"
15 Crazy boy "Batte"
16 WC Lovers "Otto volte"

1 Rondo "Super Pila" radio version
2 E-Motu "Nilogrigio"
3 Passi Falsi "Dove sei"
4 Il Divino Otelma "Prendi la fortuna"
5 Beppe Giampa' "Mia cara Valentina"
6 Dj Shane "rolling"
7 Tobix "Waiting for your love"
8 Dance Floor "Euphoria"
9 Edge 2 Edge "Melody blue"
10 3D "Play me"
11 Flaunt "Kemical luv"
12 Michael Traxx "Feel me hot"
13 Joy Foundnation "To make luv"
14 Mr. Max V "St. Peter's bells"
15 Riko B. "Fable"
16 Looser "So long"
17 Passi Falsi "Te busco entre la gente"
18 Rondo "Super Pila" raggaeton version

Selected by Mauro Vay
Selected by Mauro Vay
DANCING DAY TIME Vol. 5 - 2 cd - 34 canzoni - oltre 2 ore di musica!
Versioni integrali, non mixate, for dj, radio & moving peolple!
In piu' all'interno in omaggio il coupon per ricevere GRATIS gli adesivi del Dancing Day Time e i codici per le suonerie per personalizzare il tuo telefonino!

© & (P) BIT RECORDS - 2005

publishing: SENZA BASE records s.n.c.
Per informazioni info@bitrecords.it
* i dati qui riportati sono indicativi e potrebbero subire variazioni