Cod. BIT 113 - Casa discografica: BIT Records Edizioni: Senza Base Records
ARTISTA: AA.VV.
TITOLO: DANCING DAY TIME Vol. 6

Formato: doppio CD Compilation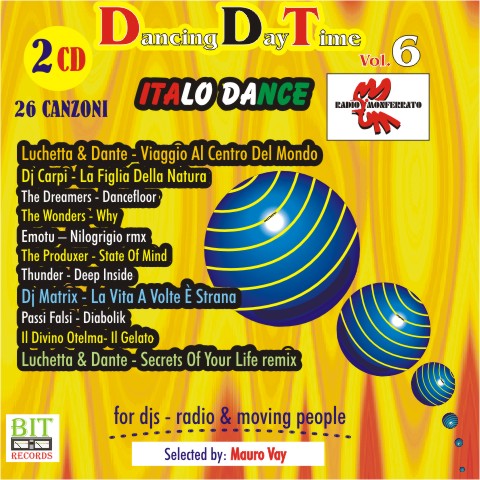 Tracks list::
CD 1

CD 2

1) Luchetta & Dante - Viaggio Al Centro Del Mondo (Radio)
2) Dome - Sei La Mia Stella (Dj Mauro Vay Gf Mix)
3) Dj Carpi - La Figlia Della Natura (Original Extended)
4) The Dreamers - Dancefloor (Ms Radio Edit)
5) The Wonders - Why (Fm Real Italo)
6) E-motu - Nilogrigio (Dj Mauro Vay Gf Extended)
7) The Produxer feat. Stefano Scolaro - State Of Mind (Radio)
8) Dance Makers - Stay With You (Ms Radio Mix)
9) Phone Box - Elektronik (Original)
10) 4 Cats - Cosa Voglio Fare (Original Version)
11) Thunder - Deep Inside (Ms Radio Mix)
12) After Day - Fire (After Mix)
13) Svito - La Pallina Da Ping Pong (Original Version)

1) Dj Matrix - La Vita A Volte È Strana (Main)
2) Passi Falsi - Diabolik (Album Version)
3) Il Divino Otelma - Il Gelato (Album Version)
4) Rap Master J - Baby Girl (Original)
5) Passi Falsi feat. Il Divino Otelma - Il Tormentone (Album Version)
6) Emyott - Why Don't You (Trip Pop Version)
7) Pasquale Coviello - Tango Trasgressivo (Original)
8) Dj Matrix - Contaminazione (Vocal Mix)
9) X-Code - Pump Up (Main Radio Edit)
10) La Matrice - Drop In (Dj Matrix Mix)
11) Jam vs Aika - You Know (What I Mean) (Down Beat)
12) The Produxer - Love Dream (Remix 06)
13) Luchetta & Dante - Secrets Of Your Life (Rmx)

Doppia compilation con versioni originali, tracce attaccate non mixate, da usare in discoteca o da ascoltare sul proprio lettore cd senza bianchi. Contiene tutti i nuovi singoli 2006 firmati BIT Records. Tra cui il nuovo Luchetta & Dante, Dj Carpi, E-motu, The Produxer e tante altre. 26 canzoni selezionate da Mauro Vay. All'interno i codici per scaricare suonerie, loghi e video per il tuo cellulare!


© & (P) BIT RECORDS - 2006

publishing: SENZA BASE records s.n.c.
Per informazioni info@bitrecords.it
* i dati qui riportati sono indicativi e potrebbero subire variazioni