Cod. BIT 131 - Casa discografica: BIT Records Edizioni: Senza Base Records Distribuzione: Self
ARTISTA: VVAA
TITOLO: DANCING DAY TIME vol. 7

Formato: CD Compilation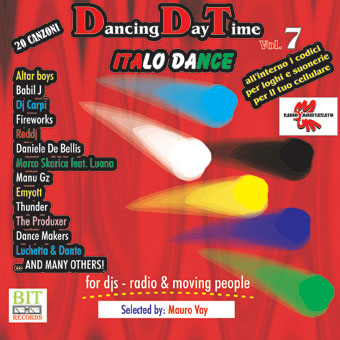 Tracks list:
1) Altar boys - Ordinary day (dj Mauro Vay gf mix)
2) Babil J - You and I (Amoroso's cut)
3) Dj Carpi - One more time (dj Mauro Vay gf mix)
4) Fireworks - Start the party (Marco Skarica radio edit)
5) Reddj - Dance is my love (Dograts rmx)
6) Daniele De Bellis - Cosa dire cosa fare (dj Mauro Vay gf radio mix)
7) Marco Skarica feat. Luana - Back in time (back radio mix)
8) Manu Gz - Vorrei sentirti (Italo style edit)
9) Emyott - Musica (dj Mauro Vay gf mix)
10) Dark Angel feat. Alicia - Shy (radio)
11) Dj Pgl - Lara (dj Bum Bum rmx radio)
12) Fireworks - Another theme (extended mix)
13) Ghost track - Bit (dj Mauro Vay gf radio 07)
14) Thunder - Deep inside (elettro mix)
15) Teckel - God you and my self (danzamatrix extended mix)
16) The Produxer - State of mind (dj Mauro Vay gf radio mix)
17) Dance Makers - Stay with you (dj Mauro Vay gf mix)
18) Luchetta & Dante - Viaggio al centro del mondo (dj Mauro Vay gf mix)
19) Ania - Musica da favola (bit mix radio)
20) Frina - Drops' embrace (original)


Dancing Day Time vol. 7
Selected by Mauro Vay
Compilation Italo dance, contiene versioni non mixate, con le tracce una attaccata all'altra, con lo spazio per essere mixate in discoteca. All'interno i codici per scaricare le suonerie, i video e i loghi di tantissime canzoni (senza abbonamento)
Distribuizione Self www.self.it
© & (P) BIT RECORDS - 2007

publishing: SENZA BASE records s.n.c.
Per informazioni info@bitrecords.it
* i dati qui riportati sono indicativi e potrebbero subire variazioni