Cod. BIT 178 - Casa discografica: BIT Records Edizioni: Senza Base Records Distribuzione: Self
ARTISTA: VVAA
TITOLO: DANCING DAY TIME vol. 9

Formato: 2 CD Compilation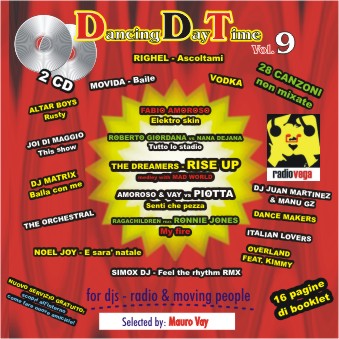 Tracks list:
DANCING DAY TIME VOL. 9 cd 1
1
FABIO AMOROSO
Elektro skin
(Dj Mauro Vay Gf Rmx)
4.44
2
RAGACHILDREN FEAT. RONNIE JONES
My fire
(Dj Mauro Vay Gf Rmx)
5.26
3
SIMOX DJ
Feel the rhythm
(Dj Mauro Vay Gf Rmx)
4.45
4
AMOROSO & VAY VS PIOTTA
Senti che pezza
(Dj Mauro Vay Gf Clean)
4.43
5
ROBERTO GIORDANA VS NANA DEJANA
Tutto lo stadio
(Dj Maxwell Latte + Rmx)
4.16
6
DOUBLE MIND
Lonely times
(Original Mix)
6.11
7
ALTAR BOYS
Rusty
(Original)
4.10
8
JOI DI MAGGIO
This show
(Extended)
5.21
9
DJ JUAN MARTINEZ & MANU GZ
Tell me why
(Extended Mix)
5.57
10
ITALIAN LOVERS
Loosing
(Original Extended Mix]
5.24
11
DANCE MAKERS
Be my lover
(Marco Skarica Extended Mix)
4.30
12
THE ORCHESTRAL
Rock'n'roll
(Dj Jajo Extended Party Mix)
5.16
13
LOS SOMBREROS
Chica
(Raggaton Mix)
3.22
14
RIGHEL
Ascoltami
(The Produxer Rmx)
5.39
DANCING DAY TIME VOL. 9 cd 2
1
RIGHEL
Ascoltami
(Original)
3.47
2
LIETOVENTO
Non mi senti
3.07
3
MOVIDA
Baile
(Massimo Scalicci)
3.52
4
RAGACHILDREN FEAT. RONNIE JONES
My fire
(Pop Version)
4.46
5
NOEL JOY
E sara' natale
4.20
6
HAZARD
Heals me
(Extended)
5.13
7
LADY NAIKE
Silent trees
(Enzino Fairytale Rmx)
6.10
8
DJ MATRIX
Balla con me
(Dante Rmx)
4.03
9
OVERLAND FEAT. KIMMY
You make me feel good
(Original Mix)
5.50
10
DOTTORIGOR
In my life again
(The Produxer Mix)
4.35
11
DANIELE DE BELLIS
Elena
(The Produxer Rmx)
5.05
12
JAJO
L'opera
(Orchestral Extended Pump Mix)
5.28
13
VODKA
Aquatik noise
5.46
14
THE DREAMERS
RISE UP medley with MAD WORLD
(extended mix)
4.44

Dancing Day Time vol. 9
Selected by Mauro Vay

Ritorna l'amatissima compilation Dancing Day Time, arrivata al volume numero 9. Grandi novita' all'interno della doppia compilation dance: 28 canzoni extended non mixate, con le tracce una attaccata all'altra.
Il booklet raddoppia: ben 16 pagine a colori piu' inalycard sempre a colori, dentro i codici per scaricare le suonerie, i video e i loghi di tantissime canzoni, possibilita' di acquistare in esclusiva i cd singoli e le ultime produzioni BIT Records, doppio coupon:
Coupon blu per ricevere a casa gratuitamente anteprime e novitą Bit Records
Coupon rosso con il nuovo esclusivo SERVIZIO AMICIZIA! Possibilita' di conoscere tanti amici e amiche gratuitamente, senza passare tramite servizi a pagamento!
All'interno il nuovo singolo ufficiale di Fabio Amoroso di m2o "Elektro skin", Ronnie Jones insieme ai Ragachildren "My fire", Piotta insieme ad Amoroso & Vay "Senti che pezza", la versione dei The Dreamers di "Raise Up" in esclusiva e poi Roberto Giordana "Tutto lo stadio", Joi Di Maggio, Dj Matrix, Overland e tantissimi altri.
In esclusiva anche il brano di Natale, la versione pop di My Fire, la bachata piu' richiesta in discoteca al momento "Baile" e la versione original dei Righel "Ascoltami"
Dancing Day Time vol. 9 - 2 cd - 28 canzoni extended (con 5 bonus track pop) - booklet di 16 pagine - suonerie, giochi, loghi e video per cellulare e tanto altro ancora! E' una produzione BIT Records

Distribuizione Self www.self.it
© & (P) BIT RECORDS - 2007

publishing: SENZA BASE records s.n.c.
Per informazioni info@bitrecords.it
* i dati qui riportati sono indicativi e potrebbero subire variazioni